Presenter and iPoster Information
Invited Speaker and Oral Presenters
BEST PRACTICES FOR VIRTUAL PRESENTATIONS
Have a quiet location set for the recording time to minimize background noise
If possible, have your computer plugged in with a hard-wired internet connection (Cat-5).
Have light cast on you from the front or side. Do not be positioned in front of a window or light brighter than your front and sidelights.
Plug your headset into your laptop or desktop computer. If your computer does not have a microphone, please attach an external microphone via USB or 3.5mm jack.
Keep your microphone muted until you are ready to speak. Allow 10 seconds before speaking once unmuting yourself.
Allow 3 seconds prior to speaking when switching slides.
Ensure that the platform you are using can export the video in 1080p or higher to allow for post-recording editing if needed.
Depending on the program you are using, your camera may block a portion of the slide. Please review slide content prior to recording to ensure all content is in view.
Instructions for Video Capturing Applications/Platforms
Loom.com
Prepare – Create your slides, and then prepare to record your lectures.
Download and Install – Go to loom.com and click on "Get Loom". It is recommended to use the Pro version of Loom so you can export your file in 1080p format. The free version is too low of quality. (Hint: There is a 14-day free trial version). Follow the instructions to sign up, verify your e-mail and download the Desktop App. Run the program installer and install the program. You may need to have Admin rights on your computer to download and install the App.
Record – Login and select your desired camera and microphone, open up the presentation that you want to record and click "Start Recording". When you are finished, click the red square on the left of the screen. A new browser window will pop up with your video recorded. Use the Download button to download the MP4 file to your computer. Export your file at a minimum 1080 HD video (or higher) resolution.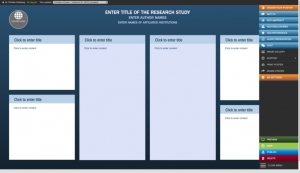 All posters will be virtual and constructed online using an industry-leading web-based provider.
Summary of how it will work:
You will log-in to set up your personal workspace. You select a working template for your interactive iPoster from a variety of choices. WYSIWYG editing tools allow you to pick colors, backgrounds, typefaces, and more to personalize your work. You can create your presentation using texts, high-resolution images, high-definition videos, sound files, slide shows, links to external websites and more. There is no space limit – content boxes open up at the click of a button, allowing you to add as much content as you need to present your research in the detail that it deserves. Share and collaborate with co-authors.
It is VERY important that you meet the following deadlines. For consistency, the deadline will be at 11:59 PM CT (Chicago, USA) on the date listed below, unless otherwise indicated.
You will receive an email with detailed instructions and your login information sometime during the week of February 8, 2021.
iposter website opens for accepted abstracts to begin drafting: Friday, February 19, 2021
iposter completion date: Monday, March 15 – 12:00 PM CST Chicago, USA (Make sure to publish your iposter!)
iposter review by Scientific Committee: Monday, March 15 – Wednesday, March 17, 2021
Requested author edits completed: Thursday, March 18, 2021
Please note: You must publish your iPoster by Monday, March 15, 2021. After publishing, you can continue to work on your iPoster up until the event. If you make changes, you don't have to re-publish; simply click "Save".
The official language of the meeting is English. Simultaneous interpretation will not be offered. If you do not have an adequate command of the English language, then we highly recommend that you present with a voice-over.
No selling or order-taking is permitted, even with respect to products or services provided by non-profit enterprises. Any medications or other substances referred to in exhibit materials must be identified by their scientific names.
Avoidance of Commercialism
All poster presentations must avoid commercialism.  NO TRADE NAMES SHOULD BE USED FOR DRUGS, SURGICAL TECHNIQUES, DEVICES AND/OR INSTRUMENTATION INCLUDING LASERS.  Advertising matter of any description may not be distributed, nor any material displayed which in any way directly promotes the commercial interest of any particular company, enterprise, or the exhibitor(s). Any medications or other substances referred to in the presentation material must be identified by their scientific names only.
Because this is a free virtual event, we are anticipating a large group of physicians and scientists with varying degrees of knowledge and experience in vitiligo. Attendees will be culturally diverse, with several countries represented.
Poster Session Dates and Times
Saturday, March 20, 2021
7:00 AM – 8:00 AM CT (Chicago, IL USA)
12:oo PM – 1:30 PM CT (Chicago, IL USA)
Convert the time to your timezone. Click here.