Presenter and Poster Information
Thursday, March 19, 2020
Hyatt Regency Denver
650 15th Street
Denver, CO, 80202
Room: Centennial Ballroom ABC
Please have your presentation ready to upload before the meeting starts at 8 am.
Please bring your presentation on a portable drive with all of the necessary files. An audio/visual tech (AV Tech) will be on hand to assist with uploading the presentation onto their laptop. YOU MAY NOT USE YOUR PERSONAL LAPTOP. Once uploaded you are asked to quickly review the powerpoint to assure that the formatting is still correct.  Please notify the AV Tech of any audio or videos imbedded in the PowerPoint.
Please start to approach the stage just before your presentation. This will assure a timely transition with little time between presentations.
When you approach the stage the AV Tech will post your powerpoint on the screen. When you arrive at the podium on the stage you will find a remote slide advancer. You will use this to control your presentation.
Please stick to the time allotted to your presentation. This insures that everyone has time to present. Thank you!
Poster Information and Guidelines
Below are the details for printing and hanging your poster board. For a printable version (PDF) of the information below, click here.
Hyatt Regency Denver
Location: Centennial Ballroom ABC
650 15th Street Denver, CO, 80202
Poster Hours
Hang Posters: Thursday/March 19
6:30 AM – 7:00 AM
Poster Viewing: Thursday/March 19
7:00 AM – 8:00 AM   (stand by your poster during this time for Q&A)     
Poster Dismantle: Thursday/March 19
11:00 AM – 11:10 AM
Posters remaining at the conclusion of the abstract session will be discarded.
Avoidance of Commercialism
All poster presentations must avoid commercialism. NO TRADE NAMES SHOULD BE USED FOR DRUGS, SURGICAL TECHNIQUES, DEVICES AND/OR INSTRUMENTATION INCLUDING
LASERS. Advertising matter of any description may not be distributed, nor any material displayed which in any way directly promotes the commercial interest of any particular company, enterprise, or the exhibitor(s). Any medications or other substances referred to in the presentation material must be identified by their scientific names only.
Selling/Order Taking
No selling or order taking is permitted, even with respect to products or services provided by non-profit enterprises. Any medications or other substances referred to in exhibit materials must be identified by their scientific names.
Failure to adhere to these guidelines will result in the poster being taken down.
The poster boards will be labeled with numeric identifying signs. The numeric sign will indicate where you should hang your poster, as well as correspond with the program book. Title of the presentation and authors will not be included as part of the numeric identification sign. Poster numbers will be assigned and emailed no later than 1 week prior to the Symposium.
Poster Presentation Production Guidelines
Each poster should be no larger than 4' x 4' (1.2m x 2m). That is, 4 feet wide and 4 feet high.
You must use thumbtacks to hang your poster.
You will share one side of the poster board with another presenter (see photos below) it is important that you adhere to the size restrictions.
No other furniture, freestanding equipment, etc. is allowed in the poster presentation area.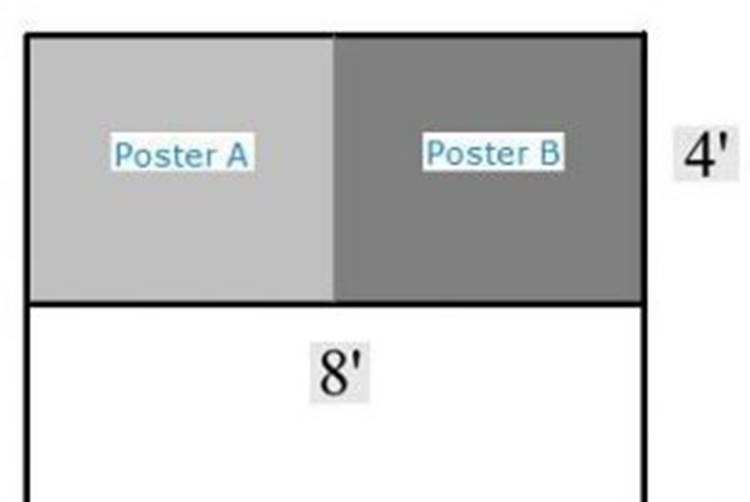 If you have additional questions, please contact us at info@globalvitiligofoundation.org
Author Photo & Brief Biography
Each poster presentation should include a photo of the presenting author and brief biography.
Disclosure of Conflict of Interest
All authors must include COI disclosures on their posters.
Disclosure of Off-Label Usage
If any part of your presentation includes the discussion of a medical device or pharmaceutical agent that is not approved by the FDA and/or a medical or surgical procedure that involves an unapproved or "off- label" use of an approved medical device or pharmaceutical agent, this must be disclosed on your poster.
Responsibility for Damage and Loss
The Global Vitiligo Foundation and the Hotel will not be responsible for damage, destruction, loss or theft of exhibits or property used in connection therewith, however caused, nor for goods sent to the building prior to or remaining after the exhibits have closed.
The poster presenter agrees to the above and will present no claims to the Global Vitiligo Foundation or the Hotel.
The following recommendations may prove beneficial to you in developing your poster presentations. They are suggestions only and are not intended to replace ideas you may already have. Rather, they are an attempt to guide you in the creation of your poster.
Your poster presentation should contain succinct headings that organize and logically display the information. The presentation should focus on:
Hypothesis or Objective
Methods
Results or Outcomes
Keep illustrative material simple. Illustrations must be readable from distances of 3' (.91m) or more and should be similar to those you would use in making slides.
Readability of Poster Presentations
Posters for presenting medical/scientific papers afford you the opportunity to have your work viewed by a large audience. However, they also present technical challenges. To accommodate several people viewing at the same time, the size of the lettering (type) must be large enough to be legible at a minimum distance of approximately 6' (1.83m).
The key to a visible and eye-catching graphic presentation is contrast. Keep this in mind when choosing your shades. For example:
Black on white
Blue on white
White on blue
White on black
If the presentation is typeset, choose a typeface (design of type) that is particularly simple and clear (e.g., Arial or Helvetica). The weight of the type chosen (the thickness of each letter) should be medium or bold. The actual size of the type is measured in "points". To be legible at a distance of 6' (1.83m), the minimum type size used should be 24 point; and to be legible at 8', you should use 30 point.