1. Governance and Operations
Key areas: improved governance, policies and procedures
Update August 2021: 
Over the last year, the GVF board has drafted and voted on additional policies and procedures. Most notable are the financial policies and procedures that instruct how GVF will
handle its finances. The board has also added a World Vitiligo Day-USA (WVD-USA) Advisory Committee, Scientific Meetings Committee, and Medical Advisory Board.
Update May 2021:
Since the last update, the GVF board has adopted new bylaws, over 12 policies and procedures, formed a Finance Committee, Communications Committee, Scientific Meetings Committee, WVD-USA Advisory Committee, and added four new board members. Most of these committees have begun their work and are making progress on the strategic plan.
Update May 2020:
The GVF board recently formed a Governance task force to review the current bylaws, policies, and procedures for GVF.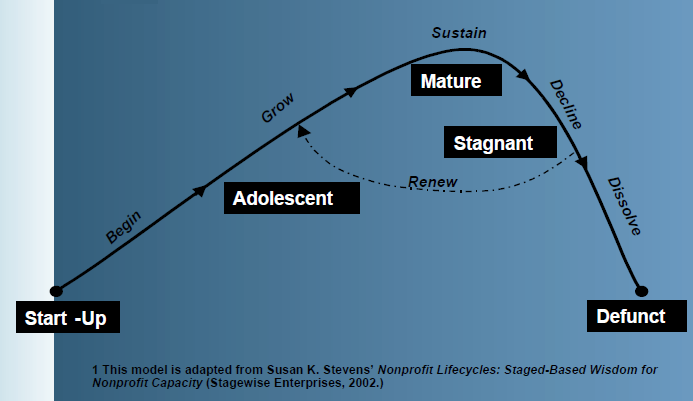 Why?
Organizations like GVF have a lifecycle. Generally speaking, they follow the path below. GVF is currently on its way out of the "Begin" stage and into the "Grow" stage. This is truly an exciting time for GVF. The Governance Taskforce has the responsibility of making sure GVF has the necessary policies, procedures, and practices in place to grow in a healthy and sustainable way.  They are also tasked with looking at the long-term health of the GVF board of directors (BOD), accessing the current and needed skills of board members, and making recommendations about future board members to the larger BOD.
2. Support
Key areas: increase public awareness, research funding, and financial support
Update May 2021:
The Development Committee is expanding and has recently added a new member. They are continuing to look towards fundraising goals.
Update May 2020:
The GVF board of directors (BOD) recently established a Development Committee to work with industry to support GVF and future research.
Why?
GVF is a not-for-profit foundation. In order for GVF to continue its growth, to accomplish our mission, and reach our vision, we need consistent support for the organization and research.  The committee is tasked with developing a short and long-range development plan for GVF. They are also tasked with making policy and procedure recommendations to the larger board of directors (BOD).
3. Individuals with vitiligo
Key areas: Assistance to support groups and persons with vitiligo
Update May 2021:
The Vitiligo Support Committee (VSC) has met and better defined its structure. Earlier this spring GVF VSC worked diligently with a consultant on the FDA Patient-Focused Drug Development (PFDD) meeting.
The Communications Committee is making progress on adding content for people with vitiligo.
Update May 2020:
The GVF board recently established a Support Committee. They are tasked with finding ways to educate and support persons with vitiligo and their families.
Why?
Those with vitiligo and their families are at the heart of what we do. We wish we didn't have to exist as a foundation, but there are people who are deeply challenged by their vitiligo and we want to be there to lend support.
4. Knowledge
Key areas: Provide educational content, develop guidelines for treatment and care, mentor young physicians and researchers
5. Brand
Key areas: Update website with additional informative content, update GVF logo, increase social media engagement, generate media content
Update January 2022:
In Q4 of 2021 GVF launched its branding guide. This tool is designed to help GVF set expectations for how the logo is used, the color palette for the website and print media, in addition to the fonts and feel of the GVF writing styles.  The GVF Communications committee expects to launch the new GVF website in Q1 of 2022.
Update August 2021: 
GVF recently received Taproot Foundation services. Because of its strong application, GVF was able to meet with dedicated marketing and web professionals who reviewed and provided feedback and suggestions on the GVF website, social media, and GVF branding.
Update May 2021:
The GVF Communications Committee has been hard at work looking at the GVF logo and branding, updating the look and content of the website and working to enhance the GVF social Media. Stay tuned as they look to launch a new GVF website this year.
Update May 2020:
GVF started off the year by updating the GVF logo and website branding.
Old GVF Logo                                      New GVF Logo!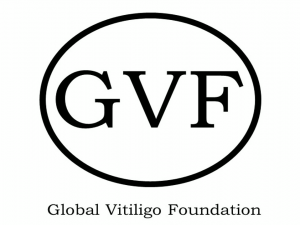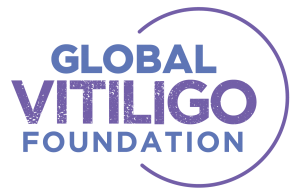 GVF shared the news about the strategic plan in a post on social media and on the website on January 28, 2020, we thought a dedicated page would help communicate to the community where we are in the process and what we have accomplished.
If you have ever worked with an organization and tried to accomplish various parts of a strategic plan you know there are a lot of starts, stops, and serges.  We will keep this page updated as the board works to complete our goals.
The board worked hard to come to a consensus on 5 key areas and goals. In no particular order, they are:
Governance & Operations: GVF will follow best practices in governance and operations.
Support: GVF will increase support for and awareness of vitiligo.
Individuals with Vitiligo: GVF will provide guidance, support and resources for individuals with vitiligo.
Knowledge: GVF will develop and disseminate knowledge through research, mentorship and educational activities.
Brand: Establish and strengthen the GVF brand with respect to all things related to vitiligo.
The board still has a lot of work ahead to adopt the goals above and to further develop these ideas into strategies and action items.